Boosta is a subscription-based platform that enables top coaches to mentor athletes 1-to-1 at scale through remote, step-by-step training.
LONG BEACH, CA – Boosta Training has launched the Boosta Basketball Training Center, featuring a growing network of the country's top basketball trainers. The Center brings exclusive training content and personalized feedback from an impressive lineup of the country's top trainers to athletes of all levels through the subscription-based Boosta platform.
"Boosta is an absolute game-changer for athletes, parents and trainers," said BriAnna Garza, Boosta trainer and Head of Instructional Design. "If you're an athlete who's learning how to shoot, working on your ball handling skills, or wanting experienced mentorship and guidance while you train, my team and I are ready."
Available on iOS and Android, Boosta has a content library of over 600 step-by-step video lessons across soccer, basketball and golf that give subscribers unlimited 1-to-1 access to mentors whenever and wherever it best suits their schedules.
"To make it to the next level in any sport, players are expected to train on their own," said Boosta Co-Founder Shelby Erickson. "Boosta takes the guesswork out of training on your own. Powered by our hand-picked network of trainers, the innovative step-based approach to teaching, learning and feedback on the Boosta platform is intuitive, engaging and achieves the feel of personal training, at scale."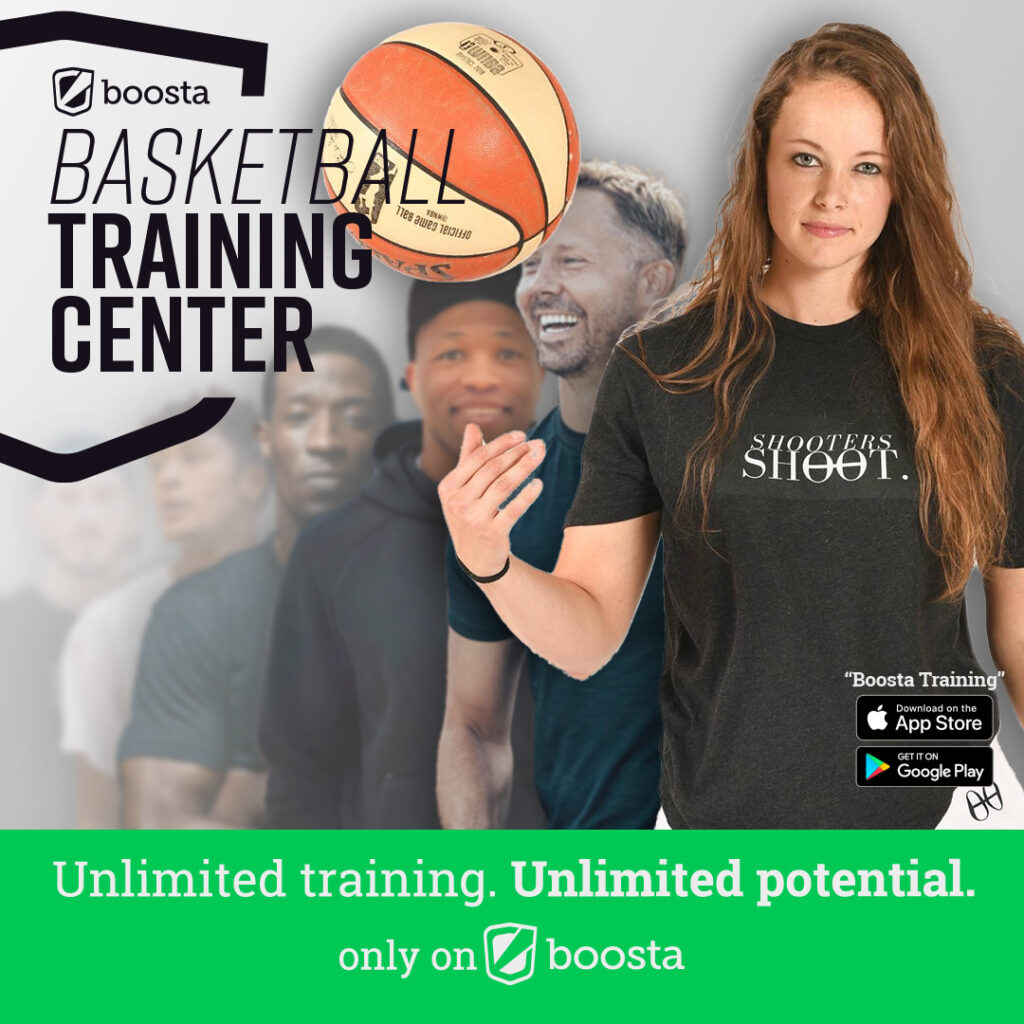 The Boosta Basketball Training Center features a growing network of professional basketball trainers, which currently includes:
Ben Bellucci (Ben Bellucci Academy) founded BBA in 2008 around a training philosophy that is simple yet innovative and focussed on giving quality service no matter the skill level. BBA has developed players of all ages ranging from kindergarten all the way to the NBA. Ben's signature BBA After School program is the leading provider of grade school-level training in Florida and Texas. Ben is based in Miami Beach, FL.
Justin Davidson (Underrated Hoops) has spent over a decade training athletes of all ages, from middle school to college. Justin currently spends the summers working camps all along the West Coast, and currently coaches a high school girls basketball team in the winter. He is also currently working on building training opportunities in his hometown of Klamath Falls, OR.
Jack Dooley (Field of Threes) is a basketball skills trainer who specializes in youth development. He has coached boys and girls basketball for the past decade in Mountain Home, ID. Jack has coached for both Mountain West Storm (2018) & Tree of Hope Idaho (2019) on the club level. Committed to becoming a more well-rounded coach, Jack has been working towards his Masters in Coaching Education and Athletic Development from Xavier University.
BriAnna Joy Garza (Shooters Shoot) is Boosta's first basketball trainer and Head of Instructional Design. BriAnna has a Master of Science in Sports and Performance Psychology from the University of North Texas, as well as a Master of Education, Instructional Design from Baker University.
John Hawthorne (HardWork 24/7) is a top producing professional Skill Developer/Coach with a demonstrated history of working in the sports industry at the highest level, with a focus on providing invaluable growth development to athletes and teams of all levels using highly skilled training techniques that develop player skills and train basketball proprioception. John has trained former NBA MVP, All-Stars, collegiate POY, HS All-State & All-City, as well as CBA MVPs. He's worked in the G-League, CBA, Team China National Men's Basketball, Australia U17, and the Riverside Hawks 17U on the grassroots Under Armour circuit.
Chris Hyppa (CHB Training) is a highly sought after skills development coach. Chris trains thousands of players of all ages each year across the country including professional players and current high-level college high school and youth athletes. He has run camps all over China, and works with professional teams in South Korea. Chris also works in conjunction with local YMCA, Boy's and Girl's Clubs, and recreational programs to mentor and provide leadership to youth in his hometown of Tacoma, WA.
Kerri Kuzbyt (Unbound Athletes) is a Canadian player development coach and founder of Unbounded Athletes. She played five years at the University of Winnipeg in Canada's top division, as well as professionally overseas in Australia, Spain and Germany for four years. Kerri is committed to redefining how a player not only trains but also how they understand and approach the game. Knowing first hand that these unique methods and styles of training work, Kerri has allowed athletes the opportunity to discover and explore the game in the most creative ways possible; proven to result in the most effective way to transfer one's training into the game. Kerri has trained some of the top athletes in Canada, as well as a high school head coach. Kerri has also traveled to run clinics in many parts of the United States where she has worked with athletes from youth all the way to Division 1 and overseas professionals.
Brandon Reichert (Green Light Hoops) is a professional shooting coach and the owner of Green Light Hoops, a company focused on offering game applicable skill development to players from youth to professional all across the world. Brandon has experience coaching the game at the high school and NCAA levels. His mission is to spread the game and help all players "Think Green". He spends the majority of his time training in both St. Louis, MO and Houston, TX
JD Shivers (Deiszeil Fitness) is a professional skills and strength coach for basketball players all across the world ranging from pros, collegiate, high school, and youth. JD has provided strength programs for multiple colleges in the southeast and runs combine clinics for athletes who want to be recruited, as well as the Lady Warriors elite AAU program. JD also works in conjunction with Point Guard College (PGC) to help provide youth athletes across the nation with better ways to think, lead, and live through the game of basketball. JD's hometown is Atlanta, GA.
Isiah Thomas (Zay Chris Basketball) is a Basketball Skills Coach and Consultant for high school and college level players. In 2020, he started the ZAYCHRISBASKETBALL training company offering a variety of services to players at every level around the world. He has run international clinics in Guatemala alongside non-profit organizations and has worked with former Harlem Globe Trotter and high school basketball star Richard McCallop for Ball Is Life-sponsored camps. Isaiah privately trains athletes across the US and is currently based in Murray, Kentucky.
Jason Wright (JW Basketball) is recognized as one of the finest basketball trainers in the United States. He brings discipline, creativity, and dedication to student athletes. His students are some of the most fundamentally sound AAU, high school, collegiate, and professional basketball players in the world. As a former Division 1 student-athlete at the University of New Orleans, Jason earned the respect of his peers through his intense work ethic and hard-nosed approach to the game. He has competed against such NBA greats as Derek Fisher, Allen Iverson, and Jason Kidd, played professionally overseas in Europe, and was a successful walk-on at the Seattle Supersonics training camp before seriously injuring his achilles tendon.
With mentorship at the core of its purpose-driven vision, Boosta has recruited a world-class team including former executives with experience from Nike, Beats, Apple, IBM and advisors from Pandora, Walt Disney Co., NCAA, MLS, and US Soccer.
To access, download the Boosta Training app from the Google Play Store or Apple App Store: https://boosta.app.link/download
About BOOSTA TRAINING
Boosta is a subscription-based platform that enables top coaches to mentor athletes 1-to-1 at scale through remote, step-by-step training. The easy-to-use platform brings a new level of accessibility to proven mentors and programs within sports, focusing initially on soccer. The larger vision for Boosta includes making an impact far beyond sports & physical health, to include skills across a broad spectrum of learning that reinforce emotional, cognitive and social well-being. Learn more about Boosta at www.boostatraining.com.