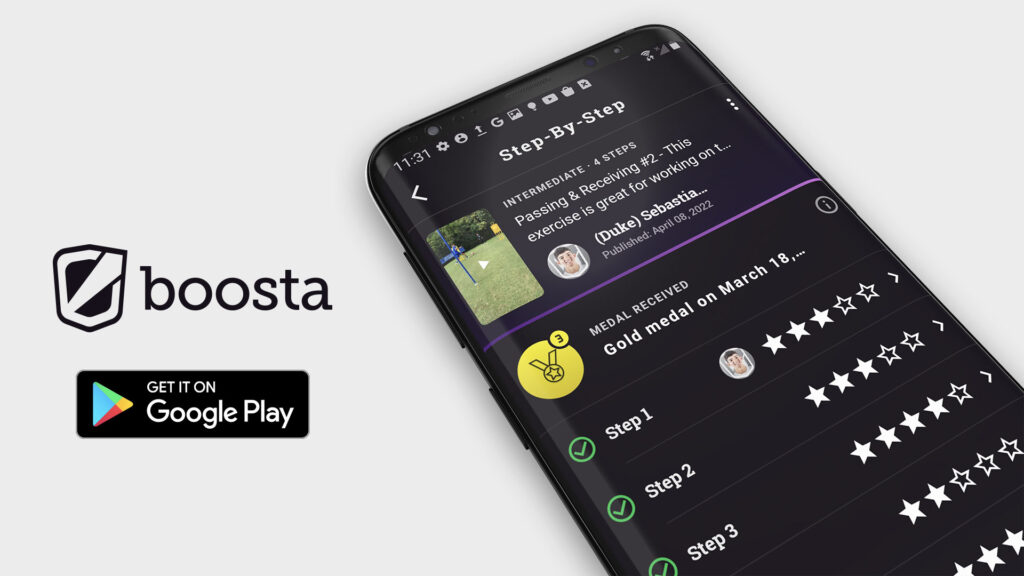 Subscription-based platform includes former executives with experience from Nike, Beats, Apple, and IBM and advisors from Pandora and Walt Disney Co.
LONG BEACH, CA – Boosta Training, featuring a proprietary step-by-step system powered by asynchronous video communication, is launching on Android. Already available on iOS, Boosta is establishing the platform in sports, starting with soccer and has a content library of 500+ step-by-step video lessons that enable subscribers unlimited 1-to-1 access to mentors whenever and wherever it best suits their routines.
Currently, Boosta has compiled an impressive list of partnerships with coaches, influential personalities and notable programs who mentor players at nearly every level of soccer, including a ground-breaking partnership with Duke University Men's Soccer Team Head Coach John Kerr and student-athletes.
"The intuitive nature of Boosta is fostering a new world of mentorship," said Boosta co-founder Tim Donnelly. "Android helps us deliver on our goal of bringing more mentorship to more people, giving players from around the world access to passionate coaches who guide them to become the best versions of themselves."
With mentorship at the core of its purpose-driven vision, Boosta has managed to recruit a world-class team including former executives with experience from Nike, Beats, Apple, and IBM and advisors from Pandora, Walt Disney Co, NCAA, MLS and US Soccer.
To access the Boosta training content, download the Boosta Training app from the Google Play Store: https://play.google.com/store/apps/details?id=training.boosta.main
About BOOSTA TRAINING
Boosta is a subscription-based platform that scales human connection through a simple step-by-step system that efficiently guides effective 1-to-1 learning. The easy-to-use platform brings a new level of accessibility to proven mentors and programs within sports, focusing initially on soccer. The larger vision for Boosta includes making an impact far beyond sports & physical health, to include skills across a broad spectrum of learning that reinforce emotional, cognitive and social well-being. Learn more about Boosta at www.boostatraining.com.