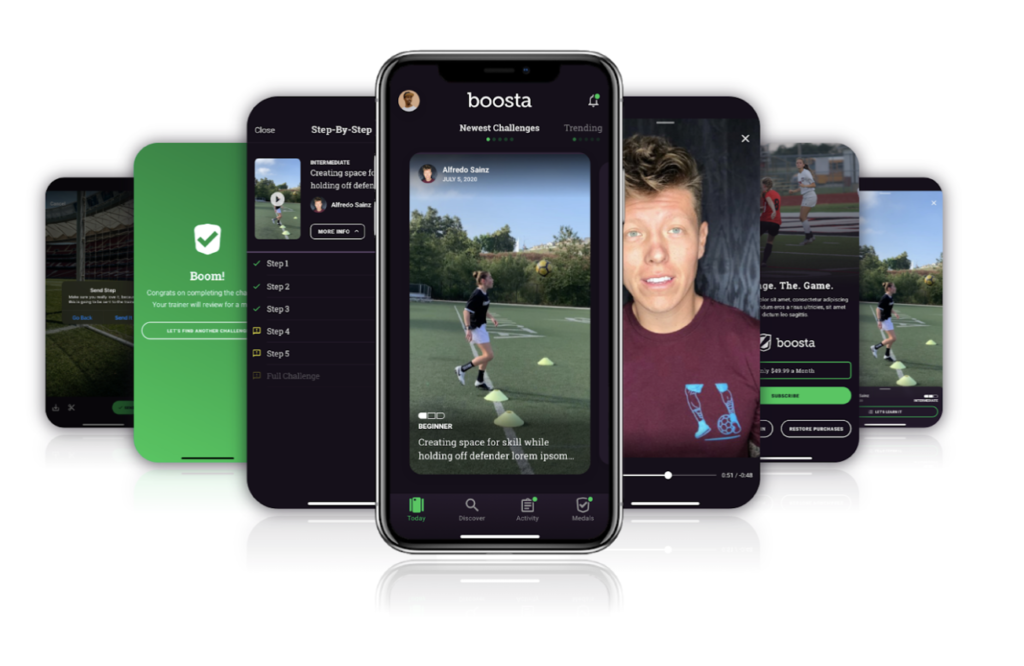 Since our last update to everyone back in October, to put it bluntly, the world has changed. We've all been forced to rethink the way we work, learn, and play – all of which has rapidly peaked everyone's interest in what we're building with Boosta.
In our October update we introduced you to the team, and talked about how excited we were to build and deliver our MVP with our first trainer, INSAINZ Training by Alfredo Sainz. We shared how Boosta was going to help the best soccer trainers in the world, like Alfredo, train anyone, anywhere.
Then In March, COVID-19 abruptly invaded our world and the reality of the pandemic hit us all smack in the face. We knew this pandemic would no doubt affect us, just like it was going to affect every facet of life, for everyone else. But what we didn't know was that the effect this pandemic would have on Boosta would be… well, positive.
With everyone being thrust into finding the best Education Technology (EdTech) to solve their distance learning dilemmas seemingly overnight, one thing became glaringly apparent to our team – no one was tackling the problems of distance learning the way Boosta was. Almost every product in the space was the same thing, but with a different coat of paint.
To this day, there are no asynchronous training platforms that allow for trainers to easily create & critique content quit like Boosta. There are certainly no platforms that allow players to effectively consume learnable step-by-step content and get feedback directly from the trainer.
We expected this pandemic to slow us down, it didn't. It only motivated us! We knew we NEEDED to get Boosta into the world immediately. Especially for our target, Gen Z, who will likely be hardest hit by this pandemic. Instead of looking ahead to a world of opportunities, Gen Z now peers into an uncertain future.
Where most of the world has had to pivot, reconfigure, & reposition themselves to figure out how to thrive in this new world, Boosta didn't. As a matter of fact, this pandemic has given us the opportunity to expand our original mission to "help kids fall in love with sports," to "helping the next generation fall in love with training".
First we will build the world's most effective step-by-step digital soccer training platform.
Then we will quickly scale, deeper into other sports and then with solutions beyond mere physical health, to include skills that reinforce emotional, cognitive and social well-being. After expanding our sports categories we will be introducing education & lifestyle, as we plan to become the most comprehensive and effective step-by-step digital training platform.
Ultimately, Boosta aims to improve the world by accelerating the rate at which you can learn complex skills, unlocking true human potential.
Although our goals for the future of Boosta are audacious, we are still hyper-focused on building the pieces today that set us up for tomorrow.
All that being said, now let's get you up to speed with where we stand today.

We. Are. LIVE!
We launched Boosta in the Apple App Store back in May with our first trainer, Alfredo Sainz. Rather than fancy marketing speak, we'll let the data & usage do the talking.
Some data…
40 + Weekly Activations

iNSAiNZ Training averaging 40+ weekly activations (trials + subscriptions)

$59.99/Weekly Premium Subscription

We are proving that there is a segment that will pay the premium, to train with iNSAiNZ Training channel

125+ Challenges

Alfredo has created 125+ challenges in the app and continues to add more each week. He thoroughly enjoys the process of creating & breaking down challenges on Boosta

3,500+ Video submissions

Videos submitted from players attempting challenges, as far away as the United Arab Emirates

800 medals Awarded

Medals are awarded by Alfredo to players who learned & completed a challenge correctly

Only 30 minutes per day on Boosta

Before Boosta, Alfredo was spending 4+ hours per day "virtually training" – most of which was dealing with the logistics vs actually training – managing Insta DM's, sending videos via email, communicating via txt, collecting payments via venmo…

No critical feedback

All user feedback has been quickly actioned
Some testimonials…
"I've worked with players online for the last 5+ years and it's been difficult and time consuming to edit, explain and send drills via email. With Boosta, it's effortless for me to create the exercises and simple for my audience to watch and learn them…and most importantly get timely feedback directly from me!"
~Alfredo Sainz, iNSAiNZ Training
Boosta Trainer
"Boosta App is a GAME CHANGER!!! It separates you from the competition thru easy and manageable step-by-step drills. The App allows you to be able to have first class training in the comfort of your back yard. My kids absolutely love it!"
~Tye R.
Parent
"I like how Fredo breaks down each step so it is easier to master it."
~Ellie W.
Player
Some App Store Reviews…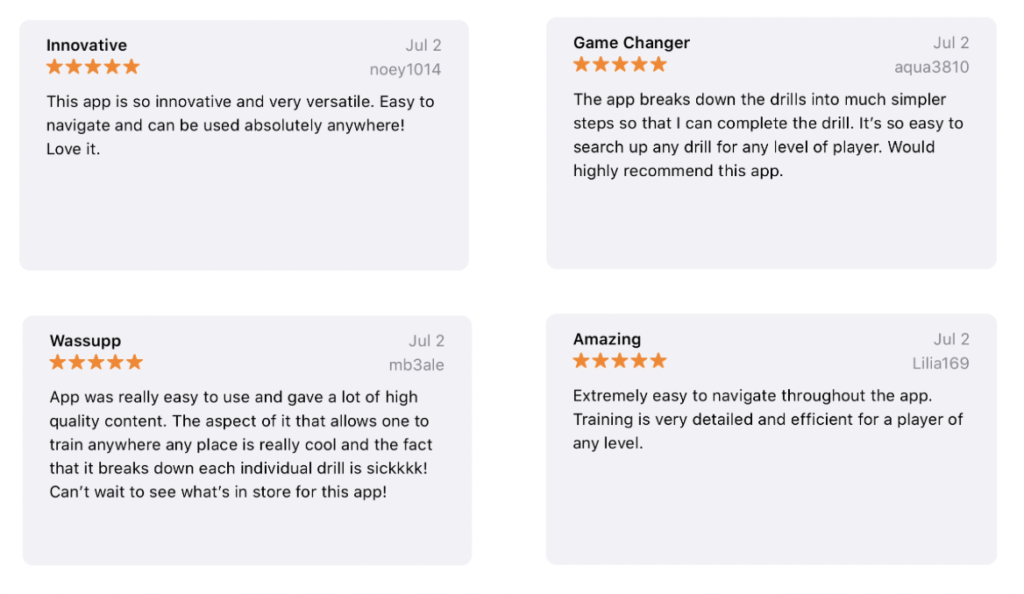 Here we want to take a moment and give Jay and the entire development team, who have been working tirelessly day and night, a round of applause for getting our latest update (v1.5) out and approved which handles all of the payments outside of the Apple App store.  This is a BIG DEAL! This gives us much more flexibility with pricing, promos, and avoiding platform fees.
In short, we feel very confident in saying, our system is working!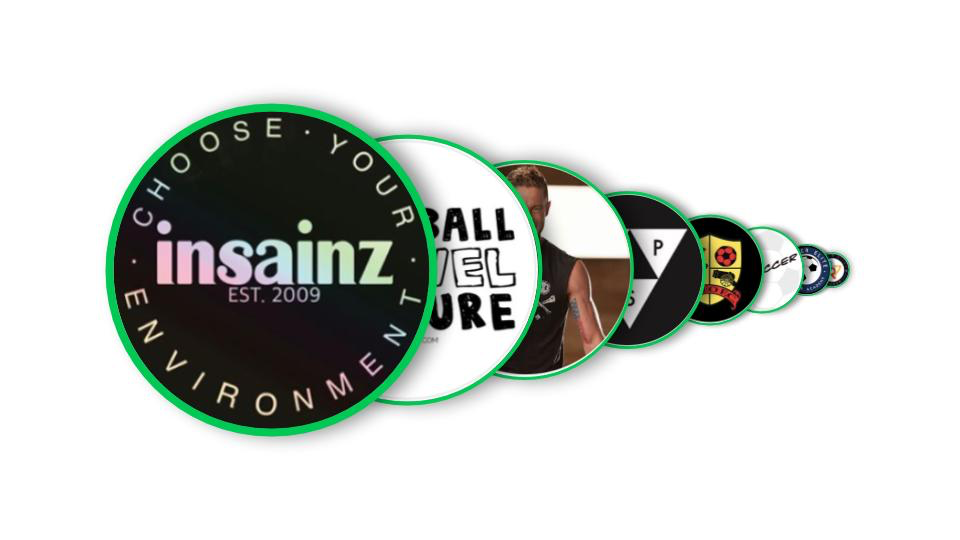 What's next?
Now that we've proved that our system works with iNSAiNZ Training for both the trainer & the players, we will grow our soccer training ecosystem.
We've already started the onboarding process for 10+ trainers that represent a cross-section of disciplines in soccer- all the aspects that make a complete player.
The one thing we want to emphasize here is, in our conversations with the trainers, we aren't trying to sell them in on Boosta, we are skipping straight to the "what do you need from me to get started?" part – it's been INCREDIBLE!
During this multi-trainer phase we are still only targeting our trainer's existing player databases. These are loyal, committed players that already work with and follow their respective methodologies. This allows us more opportunities to "test and learn" with this next round of trainers.
This Multi-Trainer release is v2.0, which the development team is currently hard at work on, and is slated to be released by mid-October. Along with the capability to introduce our new trainers, there is a whole slew of new features that we know our players & trainers are going to LOVE.
Honestly we have a vibrant & exciting roadmap full of all kinds of amazing features which we can't wait to share with you as we progress.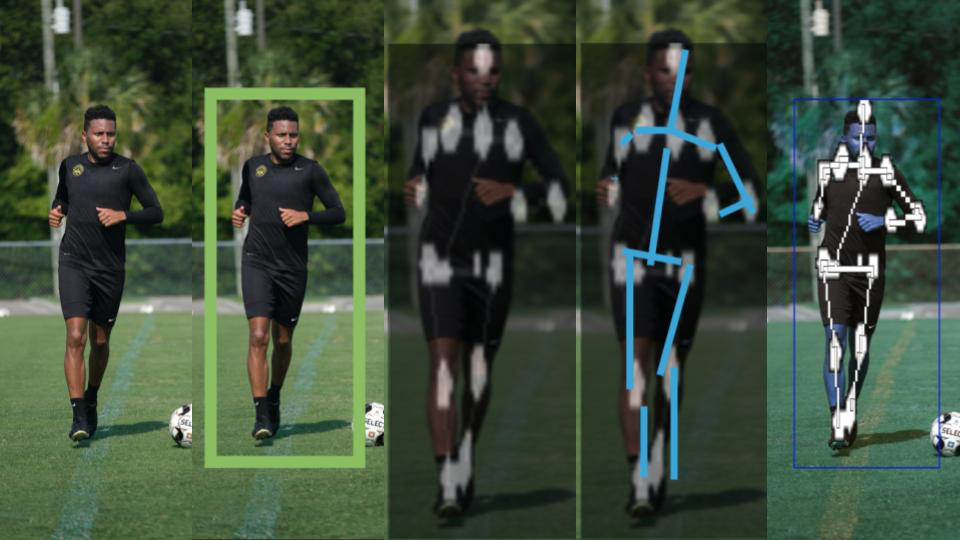 A Special Summer Project
There is something we do want to share with you as it
Since day 1, we knew the opportunity for future growth and true scale lies with private training assisted by Artificial Intelligence(AI) and Machine Learning(ML).
With that being said, we've been lucky enough to have Doug Fidaleo, AI/ML All-Star, join the Boosta team! With Doug's leadership he has already begun to build us technology(with working demos!) that will allow us to seamlessly integrate AI/ML into the platform.
We're already testing advanced technologies like video-based artificial intelligence to assist trainer feedback and evaluate player comprehension, as well as voice-based AI interfacing directly between players and trainers. With AI/ML, Boosta will accelerate the rate at which players can learn complex skills, and ultimately realize their true potential.
Promo Codes for Friends & Family
We want to offer extended promo codes for you so either you can be able to experience or share the app more organically, or if you'd like a friend or family member to try training with Boosta, we'd be happy to provide you with that access!
Fundraising
We are currently in the middle of our 2nd "Friends & Family" round of fundraising, so if you, or anyone you know would like to participate in this round, we would be THRILLED to give you that opportunity.
Thank you for your ongoing support!